Gastronomy is the unique voyage of eating good food.
At Caravia Beach Hotel your culinary experience will be a combination of International cuisine and authentic Greek gastronomy.

Emphasis is given on well being: all meals are cooked with the freshest ingredients. Our Executive Chef and his team, uses the best local ingredients, in order to cook numerous meals on a daily basis.

The hotel's restaurants and bars, offer a superb choice of food and refreshing drinks. With a choice from the islands best local produce, you will be able to select from an array of dishes that satisfy even the most demanding palates.
Freshly homemade pizza is cooked in special stone oven. Theme nights include Greek, Italian, and Asian cuisines. Adding to the buffet assortment are unlimited drinks, allowing guests limitless refills of wine, beer and soft drinks.

Finally, the endless dessert buffet is filled with freshly baked homemade cakes and pies, baklava, delicious cookies, pastries, and ice cream, too.

We also cater for our little guest's, with delicious children's menus as well as the necessary high chairs.

The nights are full of taste at Caravia Beach Hotel!
MAIN RESTAURANT
Dinning takes on a whole new meaning in the chic surroundings of Main Restaurant. Buffets are set from breakfast to dinner, with versatile menus, ensuring a large variety of tasteful healthy meals throughout the day. Whether you choose to dine indoors, in the modern dinning space or outdoors in the opulent green surroundings, your experience will be unique.

Start the day with a traditional Greek breakfast plentiful with freshly baked pastries as well as a typical English breakfast. Grilled meats and fish are always on offer, accompanied by plentiful salads and vegetables, providing a healthy and balanced diet to our guests. A wooden oven produces fresh, home made, hot pizza that is impossible to resist. Based on products that are typical of the Mediterranean diet such as bread, rusks, olive oil, yogurt, honey, cheese, fresh vegetables, legumes, pies, sweets and fresh fruit, it will provide you all you need to enjoy an unique journey in to the culinary tradition of Greece! Show cooking stations also prepare local delicacies to complement your culinary experience. For our Junior friends, a special corner with child-friendly dishes is also on hand to keep up with their action loving nature.

Please note that a smart casual dress code is required for the Main Restaurant, with gentleman kindly requested to wear long trousers for dinner. Bathing attire is not suitable throughout the day (applies to both ladies and gents)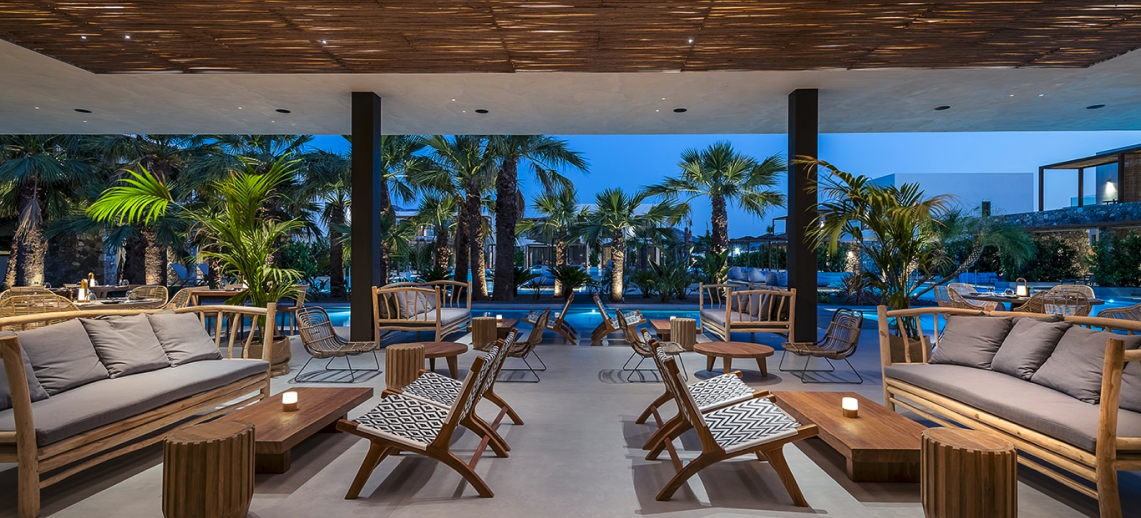 Máina
Gastro Bar
In the middle of the fabulous Junior Suites wing, Maina Gastro Bar fits right in. The all-inclusive luxury eatery for adults only, that faces the lagoon style pool, serves up local and international fare with its own unique culinary perspective. Our chefs are committed to making every dish an experience of both the senses and emotions, be it breakfast, lunch or dinner.
In between it serves also as a bar where you can enjoy your coffees and drinks, managing somehow to deliver perfection in a unique atmosphere you won't forget.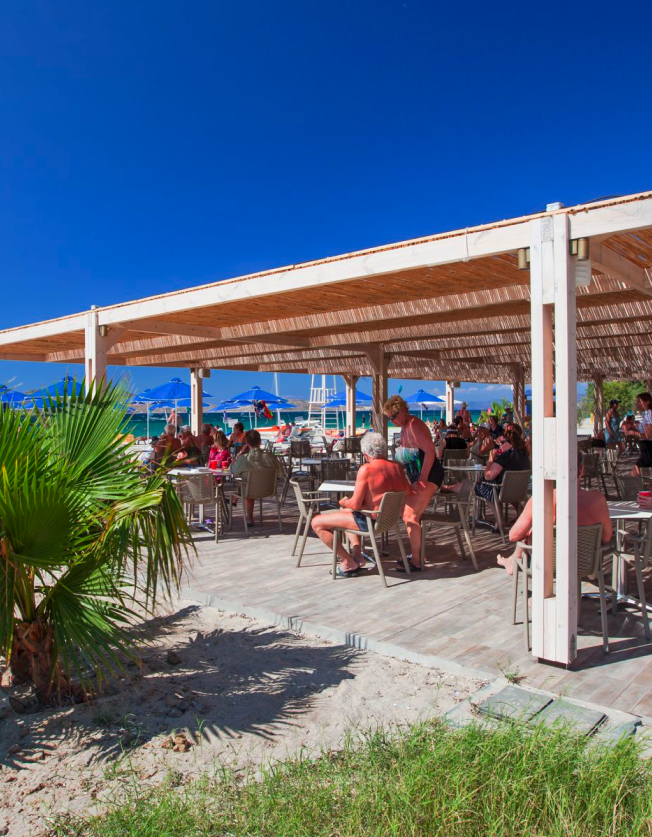 BEACH BAR
The Beach Bar at Caravia Beach Hotel is the ideal place to spend your days relaxing by the sea!

Here, you can hang out for days full of sunshine and fun! Splashing around by the beach all day works up an appetite, so enjoy a selection of light snacks and beverages at the Beach Bar, situated on the white sandy beach of Marmari. In the dusk, this vibrant spot can offer you a relaxing view of a remarkable sunset

Are you in a mood to party?

Because here, our exciting Beach Party is organized exclusively for our guests, to have fun and party the night away. When temperatures soar nothing quite reaches perfection than having somewhere to chill on the beach.

So lay on that towel or put on a sarong and grab a drink right by the beach.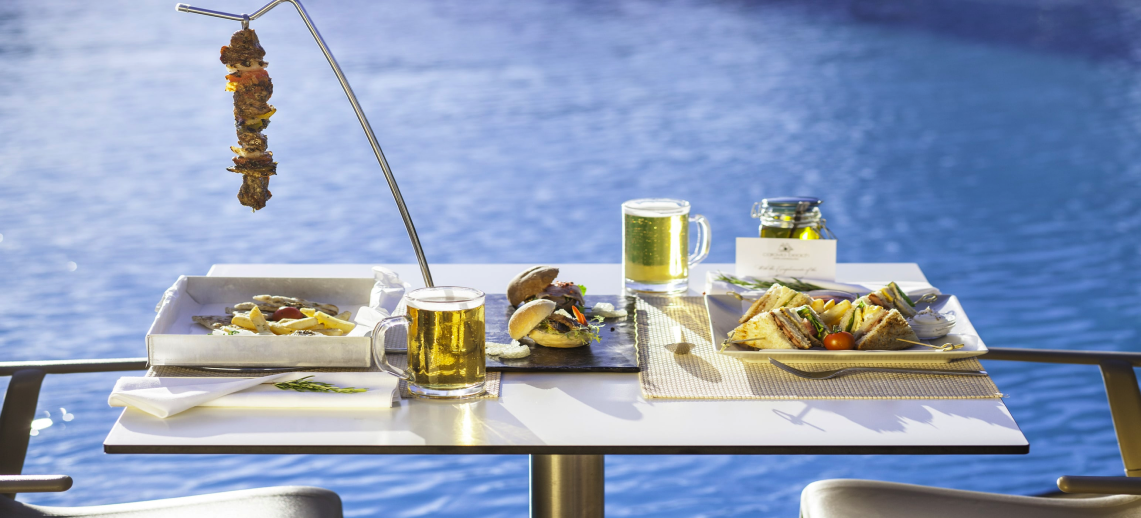 TAVERNA
The Taverna is the ideal spot for a casual meal by the pool! If you feel like enjoying a meal in a casual style, the Taverna next to the main pool, is a dining experience that cannot be missed.

Homemade meals with a twist! For a Mediterranean menu with a homemade twist, these freshly cooked meals, are a unique journey into the culinary traditions of Greece and the Greek Islands.

Fresh and colorful dishes are created daily to provide you with all the elements of a tasty and healthy Mediterranean diet.

And when the sun sets, you can enjoy a variety of aperitifs overlooking the shimmering clear waters of the pool!
POOL BAR
Lounging by the pool bar all day can make you hungry and thirsty, but you needn't go far! There you can relax in the shade and enjoy a juice or a refreshment before returning to the crystal blue waters, that shimmer in the sunlight.

Enjoy your days relaxing by the pool bar!! Satisfy your cravings with a tasty snack or a refreshing ice cream, on offer and continue to breathe the fresh air that delicately surrounds you !

Sip on you cold coffee and juices or enjoy snacks while spending your carefree hours.

Variety music creates the perfect atmosphere for listening while relaxing and enjoying the warm summer sun.

MAIN BAR
In the evening enjoy the good life in the setting of our main bar, just off the hotel lobby, with one of our refreshing cocktails, and gaze at the Aegean Sea that unfolds before you.

Relax, with your favorite wine and watch the amazing sunset

Local wines, draft beer, a selection of alcoholic and non-alcoholic refreshments, tea/coffee & juices are available to refresh and rejuvenate you.

In the cooler months it is transformed once a week into a relaxing piano bar, where you can enjoy your moments listening to relaxing piano music!

Modern décor, comfortable sofas, natural sunlight and marble define the interior of the main bar. Spend your time there chatting with friends or even unwinding from a long day, the main bar is the ultimate place to chill out and enjoy!
+30 2242 041291
info@caraviabeach.gr